When I began my career in Mental health, I remember being told by another (General) Nurse 'you don't want to work in Mental health, or you'll end up like them!'. This was a reference to becoming mentally ill like the patients I would be dealing with, and due to my inexperience, I had no quick response to this. Fast forward 30 years, and I am happy with the decision I made to pursue a career in Mental health for many different reasons. There still remain many fallacies and misconceptions about mental health, wellbeing and mental illness, but I have had a long and rewarding career, working within the field of mental health. Every day is different, and it can be really rewarding when you know you have made a huge difference to someone's life.
Mental illness is common, it is estimated that 30% of women and 20% of men will experience severe Depression in their lives. Other conditions such as Schizophrenia and Bipolar disorder have different prevalence; 0.33% and about 1% respectively.
Mental illnesses are treatable but can be complicated by the stigma associated with mental illness and the side effects of traditional Medical treatments. There are also clear links between mental health and physical health and studies and practice have moved on because we now know that  you can't have good physical health without mental health and vice versa.  
What do the statistics say? In 2019 the estimated values of people with Anxiety disorders, Depressive disorders, Bipolar disorder, Schizophrenia and Eating disorders in Trinidad and Tobago were as below: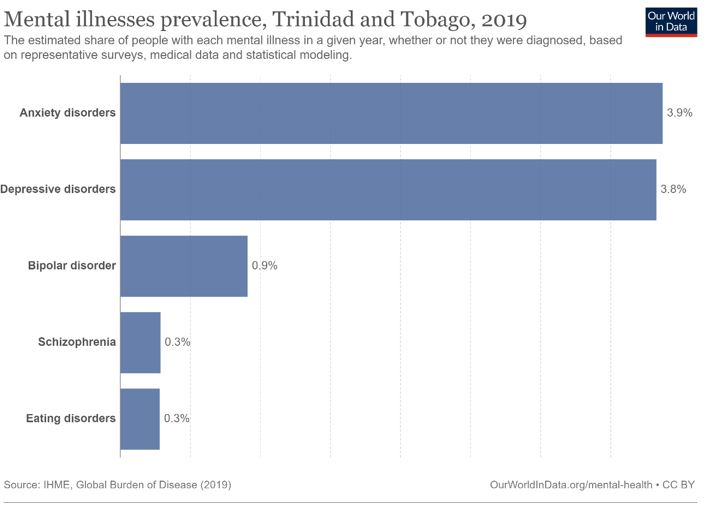 So, the rate of Schizophrenia is about the same as the worldwide rate, whereas the rates of Anxiety, Depression and Bipolar disorder are a bit lower than worldwide rates. These are also pre-pandemic statistics so; these might have changed now it's 2023.
This may be a reflection of the Trinidadian way of life, which many on social media and other platforms portray as being relaxed, easy going and free spirited. Don't get me wrong, life in Trinidad has its own stressors, but for someone looking in at life in Trinidad from overseas, there is definitely something to be said for having a more relaxed approach to life.
When I holiday in Trinidad, away from my day-to-day life in the UK, my relatives often comment on my need to be busy, 'why yuh walking so fast' or 'relax nah, don't stress' and this is one of the things that I miss when I return to my day-to-day life abroad. However, since the Covid 19 pandemic, many people all over the world have begun to re-think the effects of stress in their lives, re-evaluate their relationship with work as well as the need to have a better work life balance, since the negative effects of social isolation caused by the Covid 19 pandemic begin to manifest.
There have also been many high-profile celebrities who have opened up about their struggles with mental health issues such as the Duke and Duchess of Sussex, Dwayne Johnson, Nicki Minaj, Demi Lovato, Ryan Reynolds, Ellen DeGeneres and Naomi Osaka. This list shows that anyone, regardless of age, gender, ethnicity and sexuality can experience mental health issues/mental illness, and with knowing that, we should all take the time to safeguard our own mental health and to be kind to others.
How do we do this when we've all got busy lives and numerous commitments?
The answer may be as simple as this – practice self-care.
Studies have shown that just 30 minutes of walking per day can improve your mood.
Prioritize sleep. This can be difficult when life is busy, but, making sure we have time away from social media and our phones and laptops, can be crucial to developing good sleep habits and the aim should be to get at least 7hrs of sleep each night.
Eating healthy or trying to eat as healthily as possible. This can be difficult, when there is such a huge range of delicious food from all over the globe (as seen in any Mall in Trinidad), but remember, it is important to try. Reducing the amount of processed foods eaten will have long term mental and physical health benefits.
Try to stay hydrated with water.
Connect with friends and family. Reach out if you need support and don't be afraid to admit you need help if that is the case. People are often more willing to help than most people realize.
Make time to relax, whether this is spending time with friends or family, liming, yoga or meditation, this is important for both mental and physical health and may even benefit you spiritually.
This list is not exhaustive and I challenge you to think of your own steps which can safeguard your own mental health. We know that there are clear links between mental and physical health and wellbeing and it is up to each of us, to do what we can to protect our own wellbeing.
Written by Suzanne Styles